When it comes to your fence, it is the first impression people have of your home or commercial space, you want it to look amazing. But what if your beautiful wood fence, now has mold or mildew on it? Gross! You should remove that, and then figure out the cause so it does not return, keeping your fence looking as great as ever.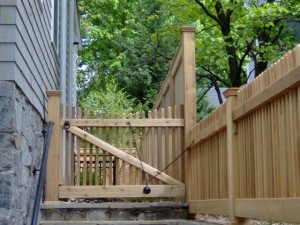 Common Causes of Mold or Mildew
Mildew often grows in dark, damp environments. If a portion of your fence is often wet or not receiving a lot of sunlight that is probably the cause of the mildew.
Moisture or Humidity– a place with a lot of moisture or humidity leads to excess water vapor which can penetrate the wood on the fence and cause mold spores to grow. Painting the fence with a fungicidal paint or selant will minimize the chances of mold growth.
Insufficient sunlight – if a portion of your fence is always in the shade, after rainfall the excess water will not evaporate leaving the fence wet. This gives mold a space to grow.
Hercules Fence of Virginia Beach is proud to be one of the top dealers in the country for Aluminum Fence. Our aluminum fences looks great with any style home and complements beautiful landscaping while not limiting a picturesque view. Aluminum withstands the elements better than welded steel or wood. Its unique powder coating process ensures that your aluminum fence will look great for many years, in fact, it comes with a limited lifetime warranty. Aluminum is available in many different grades and styles with 5/8″, 3/4″ and 1″ pickets. Standard colors are black, white, bronze and hunter green.
If you choose Hercules Fence of Virginia Beach today, you'll learn why we're the best in the business. The knowledgeable people of Hercules Fence have developed a reputation since 1955 for professional service and quality installation. With over 50 years in the fence business, we are well aware that our reputation must be earned anew every day.
Contact Hercules Fence of Virginia Beach today at (757)321-6700 or contact us on our website to talk about a residential or commercial aluminum fence.
Also, check out Hercules Fence of Virginia Beach on Twitter, Google+ and YouTube!
Source: