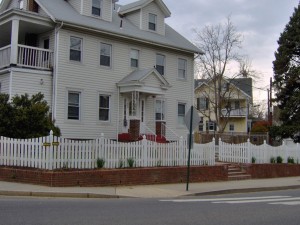 Are you considering adding a fence to your Virginia Beach home? Are you wondering exactly what benefits it will bring you and your property? Let the experts from Hercules Fence of Virginia Beach tell you why a fence is a worthwhile investment.
Are you concerned about safety? A fence can provide added security and safety in a number of ways. From the inside out, a fence can keep children and pets from wandering off of your property when you are not looking. From the outside in, a fence can prevent intruders from entering your property and endangering your family.
Are you concerned about privacy? Fences can be constructed to provide varying levels of privacy, from a low-level picket fence to a high-level privacy fence that is built as a solid surface to keep prying eyes away.
Are you concerned about your property value? If you are trying to sell your home or know that you will be putting it on the market in the future, there are few better ways to increase your property value than by adding a fence. Fences are sought-after by house hunters, and they also add an element of curb appeal meaning that your property will be more eye-catching and memorable when potential buyers come knocking.
Are you concerned about noise levels? Whether your neighbors are prone to parties or you yourself love to entertain, a fence can be helpful with noise reduction, either to keep noise out or to limit how much noise from your own yard makes it over to your neighbors.
Are you thinking of installing a fence in Virginia Beach? Call on the top fencing contractor around, Hercules Fence, to get your questions answered.
 About Hercules Fence of Virginia Beach
Hercules Fence of Virginia Beach is proud to be one of the top dealers in the country for fences. Our fences look great with any style home and complement beautiful landscaping while not limiting a picturesque view.
If you choose Hercules Fence of Virginia Beach today, you'll learn why we're the best in the business. The knowledgeable people of Hercules Fence have developed a reputation since 1955 for professional service and quality installation. With over 50 years in the fence business, we are well aware that our reputation must be earned anew every day.
 Contact Hercules Fence of Virginia Beach today at (757) 321-6700 or contact us on our website to talk about a residential or commercial aluminum fence.
Also, check out Hercules Fence of Virginia Beach on Twitter, Google+ and YouTube!