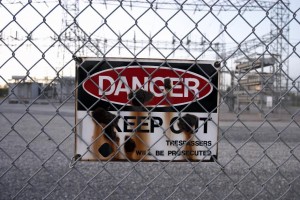 Fences can serve a wide variety of purposes, ranging from the decorative to the practical. But historically, the most common kind of use for a fence has been as a security measure. Whether you are looking to make your home a safe place or are looking to protect your commercial or government facility, Hercules Fence of Virginia Beach can help you by installing a fence.
You can prevent trespassers from entering and looking in on your property with a privacy fence. These kinds of fences can be made from a wide variety of materials depending on what your specific needs and tastes are, but they will all keep your property secure. A privacy fence does not allow a good view into your property from the outside, and they can also be designed to be tall enough to keep intruders out. Anti-climb fences made from aluminum are increasingly designed with special pointed tops that make scaling them safely impossible. An anti-climb fence can protect your home from burglars and other intruders, or your high security facility from being compromised by unauthorized persons.
Some of the most traditional kinds of fences used to discourage trespassers are aluminum anti-climb fences and chain link fences. Other kinds of fences, such as wood or vinyl, can also be used to keep your property safe, but the most popular designs are often those low-maintenance metal options. If you want to keep your property safe from intruders or simply want to be as cautious as possible, call Hercules Fence of Virginia Beach today to install a privacy fence.
At Hercules Fence of Virginia Beach, we pride ourselves in our extensive styles and options of fences. Our sales team can offer you many selections to choose from to accommodate your privacy, semi-privacy, and decorative needs. At Hercules Fence of Virginia Beach, we put safety and environmental awareness first. All of our lumber meets and/or exceeds industry standards, as well as conforms to the latest EPA requirements.
If you choose Hercules Fence of Virginia Beach today, you'll learn why we're the best in the business. The knowledgeable people of Hercules Fence have developed a reputation since 1955 for professional service and quality installation. With over 50 years in the fence business, we are well aware that our reputation must be earned anew every day.
For more information about Fences, click here.
Contact Hercules Fence of Virginia Beach today at (757) 321-6700