The housing market is finally back on the rise, which means you can finally start thinking about selling your home. However, this also means that everyone else that has wanted to sell their home the last few years but could not, because of the poor housing market, will also be looking to sell their homes. So how do you make your home stand out amongst the competition?
With curb appeal of course! If you're home doesn't look great from the outside, why would a buyer even bother with the inside.
You only get one opportunity to make a first impression, so you better make it a good one. And one of the best ways to accomplish this is to rebuild your old, rickety fence. Many potential homebuyers will be put off by a fence that is in disrepair.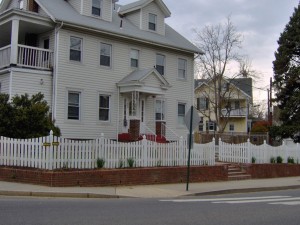 85% of homebuyers will view your home online before even thinking about visiting your home in person. Will they be put off by your rickety fence?
10% of potential homebuyers cannot see the potential of a home. This means that they will see your home (and your rundown) fence as it is…not as it can be.
Homebuyers make up their mind as to whether or not they will buy a home 30 Seconds after they first see it. So what kind of first impression is your home giving off?
Improved curb appeal may increase your home's resale value by as much as 15-20%.
Hercules Fence of Virginia Beach is proud to be one of the top dealers in the country for Aluminum Fence. Our aluminum fences looks great with any style home and complements beautiful landscaping while not limiting a picturesque view. Aluminum withstands the elements better than welded steel or wood. Its unique powder coating process ensures that your aluminum fence will look great for many years, in fact, it comes with a limited lifetime warranty. Aluminum is available in many different grades and styles with 5/8″, 3/4″ and 1″ pickets. Standard colors are black, white, bronze and hunter green.
If you choose Hercules Fence of Virginia Beach today, you'll learn why we're the best in the business. The knowledgeable people of Hercules Fence have developed a reputation since 1955 for professional service and quality installation. With over 50 years in the fence business, we are well aware that our reputation must be earned anew every day.
Contact Hercules Fence of Virginia Beach today at (757)321-6700 or contact us on our website to talk about a residential or commercial aluminum fence.
Also, check out Hercules Fence of Virginia Beach on Twitter, Google+ and YouTube!