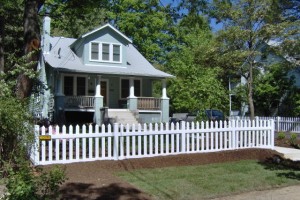 Fall is a great time to add a fence to your home. The weather is perfect for building and getting work done. Plus, it's a great way to give your home a facelift before the cold weather hits. Selecting the type of fence that's right for your home can be a challenge. You want to make sure that your fence will do the job that you need it to do, while adding some curb appeal to your home. At Hercules, we believe that you shouldn't have to choose function or fashion. A good fence will provide you with both! When you're preparing to have a fence installed for your Norfolk home, there are a few different considerations you'll need to take into account for both fashion and function.
Fencing Options
What do you need the fence for? While you can incorporate both fashion and function into your new fence, you want to make sure that it does the job that it's required for first and foremost. Need a fence that will keep your dog in and your neighbor's eyes out? Consider a privacy fence. Wood and vinyl fences work the best for privacy purposes. Need something to help keep critters out of your garden? Consider a small chain link or ornamental aluminum fence!
Do you have time to regularly maintain your fence? Wood fences are some of the most aesthetically attractive fences available, but they're also the hardest to take care of. They're not a great choice for you if you don't want to spend a lot of time staining and treating them, though. Vinyl and aluminum fences are great low maintenance options that are fairly affordable and will look good in your yard.
What kind of look are you going for? Remember that the look of some fences can easily mimic the look of others. Want a wood fence without the hassle? Try vinyl. Like the old world look of wrought iron but don't like the price? Ornamental aluminum will give you the same look. The American Dream is still alive and well in the white picket fence – try it a little taller and in vinyl for some extra privacy. You can easily tie your favorite looking fence into whatever your technical needs are!
Norfolk Fencing Experts
The knowledgeable people of Hercules Fence have developed a reputation since 1955 for professional service and quality installation. With over 50 years in the fence business, we are well aware that our reputation must be earned anew every day. Helping you choose your Norfolk vinyl fence and getting it installed is one way we can earn your trust and become your permanent fencing company! Contact Hercules Fence of Virginia Beach and Norfolk at (757) 321-6700, drop in, or contact us on our website to learn more about residential fencing options!
Source: Hastie Fence