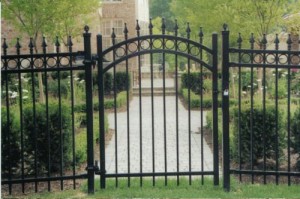 Maintenance on any fence (or anything, really) is important to ensure long life for the product as well as a consistent aesthetic value. Maintaining your fence will save you time and money over the years. It's always better to keep a careful maintenance regiment rather than having to buy a whole new fence when yours rusts out or is no longer doing its job due to lack of care. Keep up with these maintenance tips for your aluminum fence to avoid problems!
Take care of foliage. Keep shrubs, trees, and other foliage cut away from your fence. They can change the shape of your aluminum fence and make it unusable or no longer useful. It's also good to keep the foliage down simply for aesthetic reasons. Your fence and home will look better if your plants are well maintained.
Keep your fence clean. This one usually seems like a no-brainer, but when you're busy (especially in the winter months) cleaning your fence can fall by the wayside. Taking soap and water or a high-powered pressure washer to your fence can ensure that it stays clean and shiny. The cleaner your fence is, the less likely it is to break down.
Contact a professional. If you ever notice that there is something wrong with your fence, you want to immediately contact a professional to come out and see what is wrong. With aluminum fences especially, you don't want to mess with the fence yourself. It's best to contact the people that installed your fence originally, since they'll know the history and how to fix the problem.
If you choose Hercules Fence of Virginia Beach today, you'll learn why we're the best in the business. The knowledgeable people of Hercules Fence have developed a reputation since 1955 for professional service and quality installation. With over 50 years in the fence business, we are well aware that our reputation must be earned anew every day.
For more information about Fences, click here.
Contact Hercules Fence of Virginia Beach today at (757)321-670
Source: http://cleaning.tips.net/T007437_Maintaining_Aluminum_Fences.html