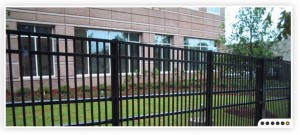 Are you the owner of a restaurant or a café? Are you trying to expand your customer capacity but do not have any more indoor room available? Creating an outdoor seating area that is bordered by an ornamental fence could be the answer you have been looking for! Let Hercules Fence of Virginia Beach help you with your commercial fencing project.
An outdoor seating area is an ideal way to compromise between providing a larger space for customers while not having to go through the time-consuming and costly process of physically expanding a building. Customers also love outdoor seating areas because it gives them the opportunity to benefit from the fresh air, people watch, and enjoy a different kind of atmosphere. Particularly in the spring, summer, and early fall, outdoor seating areas are extremely popular among patrons.
So how does a fence play into your outdoor seating area design? An ornamental fence will ensure your outdoor seating area is a cohesive part of your restaurant or café, and that your customers still have a degree of privacy even when they are outside. An ornamental fence can be beautiful on its own, or you can incorporate additional features, such as garden boxes or climbing vines, to make it even more visually appealing. With a feature like an outdoor seating area, your business will catch more eyes and encourage more people to stop by. Why not take advantage of the beautiful Virginia Beach climate by designing a custom outdoor seating area with an ornamental fence today?
Do you have questions about ornamental fence design? Call on the experts at Hercules Fence of Virginia Beach today!
At Hercules Fence of Virginia Beach, we pride ourselves in our extensive styles and options of fences. Our sales team can offer you many selections to choose from to accommodate your privacy, semi-privacy, and decorative needs. At Hercules Fence of Virginia Beach, we put safety and environmental awareness first. All of our lumber meets and/or exceeds industry standards, as well as conforms to the latest EPA requirements.
If you choose Hercules Fence of Virginia Beach today, you'll learn why we're the best in the business. The knowledgeable people of Hercules Fence have developed a reputation since 1955 for professional service and quality installation. With over 50 years in the fence business, we are well aware that our reputation must be earned anew every day.
For more information about Fences, click here.
Contact Hercules Fence of Virginia Beach today at (757) 321-670