Are you a Virginia Beach homeowner who wants to enhance their home with the addition of a fence? A fence can provide an instant increase to your curb appeal, as well as an increase to your property value! You have many options of fencing styles, materials, and designs from which to choose, but don't get overwhelmed just yet! Hercules Fence of Virginia Beach is here to help with your residential fence needs!
When selecting the material for your fence, consider how much time you want to devote to maintaining it. Some fence materials are extremely low-maintenance and require only occasional cleaning to keep them looking like new, such as vinyl fences and aluminum fences. Other fences, however, need a little extra care to prevent them from becoming damaged, such as fences made from wood.
Another consideration you need to take into account when picking your residential fence is how the fence will look in your yard. Not all homes match with all kinds of fences. A country-style cottage might be complemented by a wood fence, but would clash with a solid vinyl one. On the flipside, a more modern design might not look quite right with wood; in that case, an ornamental aluminum fence could be the key.
You should factor in the uses of your residential fence as well when determining what kind of fence you will want. Some homeowners do not want a fence that will obstruct their view, while others prefer a more solid privacy fence. No matter what kind of fence you select for your residential property, Hercules Fence of Virginia Beach is the top name in fence installation.
Hercules Fence of Virginia Beach is proud to be one of the top dealers in the country for residential fences. Our fences look great with any style home and complements beautiful landscaping while not limiting a picturesque view.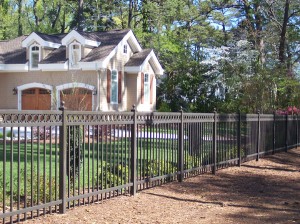 If you choose Hercules Fence of Virginia Beach today, you'll learn why we're the best in the business. The knowledgeable people of Hercules Fence have developed a reputation since 1955 for professional service and quality installation. With over 50 years in the fence business, we are well aware that our reputation must be earned anew every day.
Contact Hercules Fence of Virginia Beach today at (757) 321-6700 or contact us on our website to talk about a residential or commercial aluminum fence.
Also, check out Hercules Fence of Virginia Beach on Twitter, Google+ and YouTube!