Fences come in a variety of materials, finishes and colors to make sure that the one you get is right for your home. Each fence has its own benefits and drawbacks. Due to the affordability and versatility, recently, vinyl fences have become popular.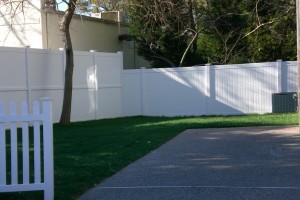 A vinyl fence is available in many different colors and textures. Additionally, it requires little to no maintenance is not prone to termites and doesn't rot. In short, a vinyl fence is almost worry free.
A vinyl fence is nearly five times as strong as wood and very flexible which comes in handy during severe weather situations.
A vinyl fence is very easy to clean, just rub a little bit of soap and water on the fence and it is good to go.
A vinyl fence is easy to install and doesn't require hours of hard labor.
Hercules Fence of Virginia Beach is proud to be one of the top dealers in the country for Aluminum Fence. Our aluminum fences looks great with any style home and complements beautiful landscaping while not limiting a picturesque view. Aluminum withstands the elements better than welded steel or wood. Its unique powder coating process ensures that your aluminum fence will look great for many years, in fact, it comes with a limited lifetime warranty. Aluminum is available in many different grades and styles with 5/8″, 3/4″ and 1″ pickets. Standard colors are black, white, bronze and hunter green.
If you choose Hercules Fence of Virginia Beach today, you'll learn why we're the best in the business. The knowledgeable people of Hercules Fence have developed a reputation since 1955 for professional service and quality installation. With over 50 years in the fence business, we are well aware that our reputation must be earned anew every day.
Contact Hercules Fence of Virginia Beach today at (757)321-6700 or contact us on our website to talk about a residential or commercial aluminum fence.
Also, check out Hercules Fence of Virginia Beach on Twitter, Google+ and YouTube!
Source: