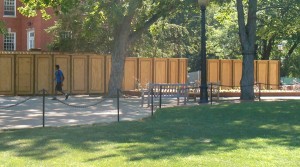 There's a lot of construction that takes place in Virginia and the Virginia Beach area. Construction is good. It means that the economy is improving and that there are people creating jobs and workspaces for more people! Many people don't take security into account when they begin to build in the area, though. Virginia Beach is by no means a dangerous area, but you never know when someone may decide that they're going to commit a crime or act of vandalism. At times like those, you want to know that you and your assets are protected – this is where temporary security fencing comes in.
What are the Benefits of Temporary Fencing?
Security: If you're going to be working on a construction project, especially for an extended period of time, you want to know that everything in that space is going to be there when you come back in the morning or after a long weekend.  Good temporary fencing by a reputable company will give you that peace of mind. With a lock on the fence and some security measures in place, you'll know that thousands of dollars' worth of equipment and construction is safe.
Safety: It's not enough to make sure that all of your equipment stays safe. You also want to make sure that those inside the fence as well as the pedestrians outside come to no harm. Construction areas can be dangerous for people who don't know about the safety precautions necessary in a hard hat area. If you've got a lot of tools laying around, you don't want those uneducated on the uses of them to attempt to operate them, as they could be injured and possibly even file a lawsuit.
Secrecy: At Hercules Fence, we sometimes work with government agencies in Washington DC to help them preserve their privacy when they're involved in construction of a sensitive nature. We know that you don't always want all of your information out there for a variety of reasons. Some of our temporary fencing options offer an extra layer of privacy and security. People won't be able to see what you're doing or pry around for sensitive information. Consider your secret safe with temporary fencing.
When you need a temporary fence for your construction company or project, you need to talk to the experts – to the people who know exactly what you need and how to deliver it to you. With nearly 60 years of service in the fencing industry, we know what you need. Contact Hercules Fence of Virginia Beach at (757) 321-6700, drop in, or contact us on our website to learn more about temporary fencing!
Source: Viking Fence