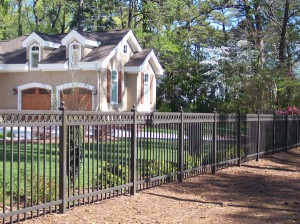 Landlords know that tenants sometimes ruin things. They don't always do it on purpose and it isn't always their fault, but things happen sometimes. Carpets end up with red wine stains, that one pane of glass got mysteriously broken, and in some crazy accident, the wood fence ended up missing an entire post. You're not sure how it happened and neither is your tenant, but what you do know is that you now have to replace your fence. If you, like many Virginia Beach residents, rent out your home or condo during the summer, you know that tenants don't always take care of your home like it's their own. That's why you need to make sure that you're using materials that are strong, sturdy, and can withstand just about anything.
For one thing, it fits all of the criteria listed above. You'll have a fence that's going to withstand your summer tenants and come out good to go on the other side. That's not the only reason to go with aluminum fencing, though.
Easy to take care of – You probably won't have a chance to stain your fence in between tenants or make sure that none of the wooden posts are missing every couple of weeks. Aluminum never needs to be painted, but will retain its color throughout its lifetime. You can have peace of mind knowing that your fence will still look great for every tenant or renter that comes through.
Cost efficient – Aluminum is not nearly as expensive as many of your other fencing options and since they're so durable, you won't have to worry about frequently replacing them. The fact that you don't have to paint them or seal them means that you won't be spending money on maintenance. You can focus on putting your money towards more important things.
Safe and secure – Though wooden fences offer better privacy, aluminum fences that are the right height offer more of a safety component. They're very difficult to scale and if you add decorative points at the top of them, would-be thieves are unlikely to attempt to get over your aluminum fence, leaving your renters feeling safe and letting you rest easy that nothing will be stolen.
Aluminum Fencing from The Virginia Beach Fencing Experts
Make the important investment in aluminum fencing and watch your Virginia Beach rental go from "Eh" to "Awesome!" Contact Hercules Fence of Virginia Beach at (757) 321-6700, drop in, or contact us on our website to learn more about decorative aluminum fencing!
Source:  Fence Workshop