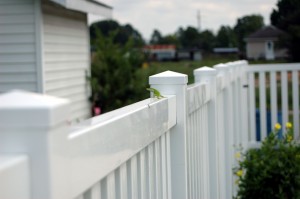 A vinyl fence is one of the lowest maintenance fencing options available. That being said, there is still some maintenance that should be done to keep the fence looking its best. Vinyl fencing requires much less maintenance than wood, which makes it a more desirable choice for many Virginia Beach homeowners. A vinyl fence is unlikely to succumb to deterioration, but occasionally some routine maintenance needs to be done to remove stains and keep your fence clean. Following are some tips for keeping your fence looking fresh and new.
General Cleaning – To simply make your vinyl fence look new again, there's not a whole lot required. You'll want to start by dousing the fence with your garden hose. Try using an attachment sprayer to knock off some of the dirt; do this in small sections. If there's a lot of dirt or grime that you can't get off simply by spraying the hose, you may want to get a sponge and a bucket of warm soapy water. Wipe the fence down and rinse again – just doing this will bring back the original look of your fence.
Tough Stains – If it's been a while since you've cleaned your fence, or if it's somehow required a really bad stain, you'll probably need more than just soap and water to clean it off. Adding bleach to the mix can help, but you'll need to make sure that your hands are well protected. Try using 1 part bleach to 5 parts water; if you have a dark fence, you'll want to rinse the bleach off immediately after cleaning so as not to ruin the color. Follow the steps outlined for regular maintenance, but use the bleach water instead of soapy water.
Frequency – You should try to clean your fence at least once per year. Generally fall is the best time to do it since it'll acquire most of its stains during the summer. If you want to remove a stain in between cleanings, you can always simply take soap and water to it or try something like a magic eraser. Make sure to address any mold or mildew issues shortly after they arise to avoid having a really difficult job removing it later on.
You don't have to clean your vinyl fence often, but you should give it some attention every 6 months to a year. If you take good care of it, you can wait much longer to replace it! To learn more about caring for your vinyl fence, or to discuss your fencing options, contact Hercules Fence of Virginia Beach today at (757)321-6700 or contact us on our website. We'd be happy to talk to you!
You can also check out Hercules Fence of Virginia Beach on Twitter, Google+ and YouTube!
Source: http://www.howtocleanstuff.net/how-to-clean-vinyl-fencing/