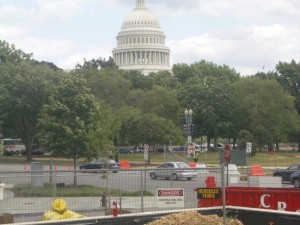 Construction can be dangerous work. On a big construction site, there are numerous dangerous tools and dangerous machinery as well. Temporary fencing can help you avoid lawsuits, problems, and accidents within a construction zone, which is really important when you're trying to get your work done safely. Safety is always a top priority of construction zones and contractors; temporary fencing can help you meet that goal and ensure that people who don't understand the machinery or dangers of a construction zone can't get into the worksite. Temporary fencing around construction zones plays a few more important roles.
Privacy – Some projects should be kept from prying eyes and curious passerby. Plus, you can feel like you're working in a fishbowl if you're working on a project that's open to the public. The sheer amount of people in Virginia Beach during the summer can make you feel like everyone is watching you do your job. Putting up a temporary privacy fence lets you get your work done without people prying into the work that you're doing.
Protect the site – Even though the crime rate in Virginia Beach has dropped significantly in the past few years, there is still the risk of someone deciding that they want whatever you have in that construction zone. Since equipment can get very expensive and take time to replenish, you should make sure that everything inside the construction site is safe. Putting a fence around your worksite will deter and prevent people from thievery. It'll also help prevent any type of vandalism of the building that you're working on.
Weather block – Though most temporary fences won't block weather on their own, when you pair them with windscreens, they can help block wind from your construction site. This will make it easier to get work done without having to deal with equipment blowing over or sand/dirt becoming a problem on your worksite. Privacy screens are also available if you don't want to go for the full privacy fence.
Temporary fencing for your construction site is always advisable. It'll keep your employees, equipment, and project safe and will help you gain a little bit of privacy for the work you do. If you choose Hercules Fence of Virginia Beach today for your temporary fencing needs, you'll learn why we're the best in the business. The knowledgeable people of Hercules Fence have developed a reputation since 1955 for professional service and quality installation. With over 50 years in the fence business, we are well aware that our reputation must be earned anew every day.
Contact Hercules Fence of Virginia Beach today at (757)321-6700 or contact us on our website to talk about fencing for your construction worksite!
Also, check out Hercules Fence of Virginia Beach on Twitter, Google+ and YouTube!
Source: http://www.city-data.com/crime/crime-Virginia-Beach-Virginia.html
http://www.diamondprovides.com/Temporary_Fence.htm