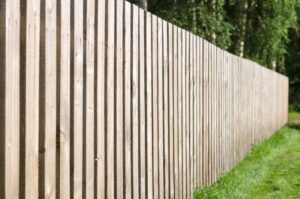 A fence surrounding your property is a valuable addition. Fences help keep your home safe and help improve curb appeal and increase the overall value of your home. Being that your fence does a lot for your home, you should ensure that it is properly secured. Read on for four tips to make yours even more secure.
Wooden Fences With More Height Are More Secure
Taller fences are more secure. If you already have a shorter one, there are ways to add additional height, usually with lattice toppers. These are not as secure as new full-height privacy, but they help.
Anti-Climb Features For Your Wooden Fence
If you want your fence to be secure, it has to have anti-climb features. For instance, you can thorny rose bushes along the entire outer perimeter to keep people from trying to climb it. Likewise, you can install anti-climb spikes on the top of the fence.
Enhance The Security Of Your Fence
Finally, consider using floodlights and cameras to make your residential fence even more secure. These items must be visible and apparent if you want them to be a deterrent for criminals.
Hercules Fence of Virginia Beach Has Everything You Need!
Call Hercules Fence of Norfolk and Virginia Beach for your fencing needs. We have decades of experience in the fencing industry. We can offer you the best in ornamental steel, chain link, wooden fences, and more. Our dedicated teams of fencing professionals are highly trained, skilled, and experienced in providing quality fence installations of any type. We'll work with you to find a fence that best suits your needs and budget.
Contact Hercules Fence of Virginia Beach at (757) 321-6700. Contact us on our website to learn more about fall and winter fence construction! In addition, you can keep up to date with offers and information.