Available in a wide variety of styles, materials, and configurations, choosing what kind of fencing is right for your Virginia Beach Home can be a difficult task. If you're looking for an appealing, cost-effective option that's sure to increase curb-appeal while standing up to the test of time, you may want to consider installing vinyl fencing.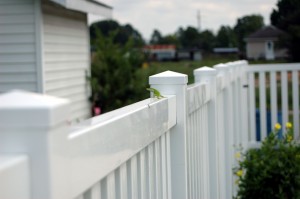 Popularized in the 1980s, vinyl fencing is almost five times as strong as wood. It's flexibility and water resistance make it an ideal choice for fencing an area where it will have to face strong winds and rain. In areas like Virginia Beach, where weather and water are always a construction concern, vinyl fencing can mean the difference between a secure and stately property, and a beach wreck.
Low Maintenance
Vinyl fencing is also a breeze to care for. It requires little more than the occasional cleaning with good old soap and water, no fancy chemicals or other treatments required! Also, because vinyl retains its color over a long period of time, repainting is almost never required. Vinyl can't rust, wont rot, and is utterly impervious to wood-borne pests like termites, carpenter ants, wood-boring beetles, and bees.
Safe
Vinyl fencing is also a safe, non-toxic choice for your home. It is not treated with hazardous chemicals and because it is recyclable there's no waste. It's also inexpensive to purchase, far cheaper than wood, aluminum, or steel and the low maintenance costs only further the savings.
Stylish
It's also a no-brainer to select vinyl fencing if you're especially concerned with the style and continuing appeal of your Virginia Beach home. Available in a wide variety of colors, styles, and configurations, vinyl fencing is the definitive solution for any Virginia Beach homeowner looking for affordable, easy, and beautiful fencing.
Considering Vinyl Fencing?
The knowledgeable people of Hercules Fence have developed a reputation since 1955 for professional service and quality installation. With over 50 years in the fence business, we are well aware that our reputation must be earned anew every day. Helping you choose your Norfolk vinyl fence and getting it installed is one way we can earn your trust and become your permanent fencing company! Contact Hercules Fence of Virginia Beach and Norfolk at (757) 321-6700, drop in, or contact us on our website to learn more about residential vinyl fencing!
Source: