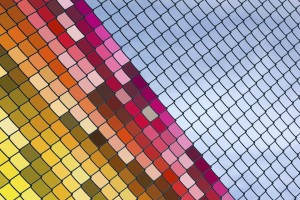 When you think "privacy fence," you probably think of wood or vinyl. They're the most commonly used materials for privacy fencing. They're both stylish and practical – they can also get expensive. Wood requires a lot of maintenance and some people simply don't like the idea of vinyl. For those that have been on the fence about using chain link, there are a lot of ways to turn your generic chain link fence into a privacy fence. You can also make your fence more decorative by turning it into a privacy fence, depending on what option you choose.
Tips for Creating a Privacy Fence
Fence Slats – One of the easiest ways to convert your chain link fence is to use fence slats. They come in a variety of colors and durability to fit your lifestyle and climate. Slats are nearly maintenance free and have the advantage of being easy to interchange. If you like decorating for different holidays or seasons, you can easily change the slats to reflect that. Try red and green slats in the winter months and orange and black around Halloween!
Flowers and vines – Vines need a place to grow anyway. Allowing them to grow up your fence gives you a way to ensure your privacy, while giving your home a more natural look. Since we do live in a climate that gets cool during the winter months, you want to make sure that you choose plants that can handle fall and winter months in Virginia. Talk to someone at your local greenhouse about the best plants for your fence.
Privacy fabric – Many companies manufacture fabric that is specifically designed to wire on to chain link fences. The fabric is dark enough and thick enough to ensure your complete privacy behind it. Most of these fabrics are either nylon or canvas. They'll probably run more expensive than fence slats and will be more difficult to replace or interchange, but if you're looking for a near permanent solution, privacy fabric is the way to go.
Norfolk Chain Link Fencing
Looking for a chain link fence in the Norfolk, Virginia area? You've come to the right place! Chain link is great if you need a fence that's easy to maintain and cost efficient. Choosing the perfect chain link fence for your property is something that we specialize in at Hercules Fence. Contact Hercules Fence of Virginia Beach at (757) 321-6700, drop in, or contact us on our website to learn more about residential chain link fencing!
Source: eHow