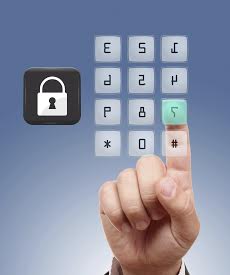 An "access control system" is a condensed way of saying "a safety mechanism that only allows certain people to access a building or area." Many office buildings that you go to today will implement access control systems so that they have a way of controlling who is allowed to enter the building. It's especially important for companies that have expensive equipment or sensitive information to protect. There are quite a few advantages to having access control systems for office buildings and certain businesses. First, though, check out some of the different types of access control systems that are available.
Access cards – These cards allow a person to get into a building or multiple rooms within a building. They can also be used for clocking in and out of a time card system and more.
Phone/Video Approval – This is usually used for guests who don't have access cards. Instead of just allowing guests to walk in a building, this gives employees the ability to decide what guests are allowed access.
Keypad – These aren't quite as safe as access card operated access control systems since it's very easy to give the number to another person, however they still add an extra layer of security to your commercial location.
We can add access control to just about any of our automated gate systems to make your company a little bit safer and more difficult to access to those who don't have any right to be there. There are a few other advantages to having an access control system.
One key for everything – You don't have to worry about giving employees multiple keys to different rooms or even changing the lock if a terminated employee decides to abscond with a key card or access code. Simply change the code electronically or disable the card. It's simple and takes very little time.
Authorize specific places – Instead of worrying about what employees are able to access things, you can make it so that only some employees are able to access a room or area of a building. Limiting access helps to keep access safe and help to better ensure compliance.
Safeguard the gate – Don't even let people get to the front door without permission. Installing a security gate with an access control system will keep people far enough away that you'll never have to worry about someone who is unauthorized getting to the door of your building. Pair this with security cameras and you've got a great start to a security system.
At Hercules Fence of Virginia Beach, we carry and install gate entry system as well as access control systems to help keep you and your information secure. When you're ready to install a front line of security, contact Hercules Fence of Virginia Beach at (757) 321-6700, drop in, or contact us on our website. We'd be happy to talk to you about security fencing as well as your other fencing options!