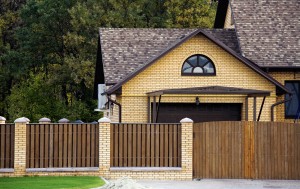 Summer is right around the corner, and that means cookout season! It's time to entertain family and friends outside, which means your backyard has to be looking top-notch. What better way to provide privacy for your home while keeping your yard looking great? Wood fences are the answer this season. There are several benefits to having a wood fence in your yard.
Privacy: It's nice having neighbors and being so close to them, but sometimes we all need our privacy. Fences help with noise-reduction and will allow you to gather with friends and family in a more secluded setting. Our custom wood fences allow you to choose the height of fence, and type of wood to meet your needs.
Style: Add a little flair to your home. If you're looking for a natural or rustic look in your Virginia Beach fence, a wood fence is the right choice for you. Wood is easy to paint or stain, allowing ideal customization to fit your yard. Dreaming of that white picket fence like in the movies? We can make it happen for you!
Safety: A wood fence acts as great security, especially if young children or pets are playing outside. Hercules Fence can make sure that your family – pets included – will stay safe and contained so that you can rest assured.
Environmentally friendly: Wood is better for the environment in comparison to plastic or metal. Our lumber corresponds with the latest EPA guidelines and requirements, as well as meets, and even exceeds industry standards. So, give a little back to the environment and choose wood for your Virginia Beach fence!
Choosing the right fence for your property can be a big job. Knowing all of the pros and cons of different types of fencing can help make the decision easier. Hercules Fence of Virginia Beach has the experience necessary to help you figure out what fence is right for you and your home. To get started, contact Hercules Fence of Virginia Beach today at (757) 321-6700 or contact us on our website. We'd be happy to talk to you about wood fencing as well as your other fencing options!
You can also check out Hercules Fence of Virginia Beach on Twitter, Google+ and YouTube!
Source: http://www.lowes.com/cd_Fence+Buying+Guide_976084218_