While chain link fences provide security, and white pickets offer aesthetic appeal, it can seem difficult, if not downright impossible to find a home security solution for your Virginia Beach property that affords both the convenience and practicality of physical security, and looks good doing it too. Enter: The automatic gate system. These imposing and functional structures have numerous benefits and can provide you with enhanced security for both your commercial and residential areas while adding a touch of sophistication and class.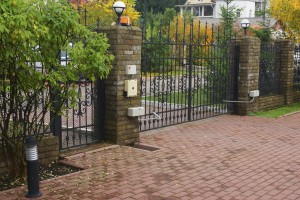 Safety
An automatic gate system allows you direct control over who comes in and out of your property without the ongoing expense of hired help. You can keep your kids safe and intruders, both on foot or in vehicles, well away from you, your loved ones, and your valuables. Installing an intercom and remote activator can allow you to personally communicate with visitors and control access with the push of a button.
Curb Appeal and Resale Value
Unlike traditional chain-link fences or manual gates, automatic gate systems can be designed with almost no limitations on style or appearance, drastically increasing your property's curb appeal and therefore the potential asking price should you decide to put your home on the market. The sense of security that an automatic gate system provides will not only be invaluable to you, but also to any future would-be-owners considering the place.
Deterrence
An automatic gate system will stop physical entry by unwanted parties; it often prevents your house from ever being a target in the first place. Automatic gate systems have a proven deterrent effect on criminals, making your house a less opportune choice than a neighbor without one. You can also use an automatic gate to keep out unwanted solicitors and animals, while preserving your privacy.
Versatility
Automatic gate systems are available in a wide variety of configurations, to match the incredibly diverse security needs of the modern era. What your system looks like and its exact functionality is only limited by your personal security needs. Automatic gate systems range from ornamental designs, fit for stately residential properties, or imposing, barbed-wire bearing fortresses for commercial facilities.
Interested?
Hercules Fence has the ability to provide convenient gate operator systems for all purposes. Our gate operator system experts can recommend the appropriate system for your needs. At Hercules, we analyze the opening size, style of fence and gate, distance from the dwelling(s), road surface material, entry mechanism, exit mechanism and safety concerns before recommending the right gate and operator for the intended purpose. If you're looking at upgrading your Virginia Beach home with an automatic gate system then Contact Hercules Fence of Virginia Beach at (757) 321-6700, drop in, or contact us on our website to learn more about automatic gate systems.
Source: Washington Fence