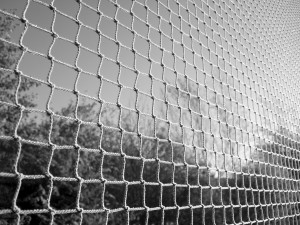 Chain link fences bring to mind big buildings and commercial businesses. Have you ever considered a chain link fence for your home, though? You may be hesitant at first because chain link doesn't necessarily scream residential. Having a chain link fence installed around your home property does have quite a few benefits, though. It's all in how you use, decorate, and employ the chain link fence. You also have the option of using vinyl coated chain link, which is one of the strongest fencing options available. The combination of the two is attractive and durable. These aren't the only reasons to try a residential chain link fence.
Benefits of Chain Link Fences
Keep your costs down – Certain types of fencing can get expensive. For example, wood fences and full vinyl fences sometimes have hefty price tags attached to them. They have their own benefits, too, but chain link fences give you a slew of benefits for a good price. If you're willing to spend a little bit more time working with the aesthetic for a smaller price, chain link is a great option for you.
Retain privacy – Wood and vinyl fences are the ones that are usually most noted for privacy, but chain link can also provide the privacy you need. Many companies sell venetian blind-like materials that you can weave into your chain link fence. The great part about those is that you can change up the aesthetic of the fence as you please by getting different colors or patterns. It's a fun decoration change that also allows for privacy.
Low maintenance – Or no maintenance. Chain link fencing doesn't require much on your part, other than occasionally changing up the aesthetic, if you're so inclined. If you've got vinyl chain link, your fence will require even less maintenance and will be more durable. You'll rarely have to worry about repairs or problems arising with your vinyl coated chain link fence. Wood fences are notorious for needing a lot of maintenance – they look nice, but they're a lot more work than chain link.
Chain link is great if you need a fence that's easy to maintain and cost efficient. Choosing the perfect chain link fence for your property is something that we specialize in at Hercules Fence. Contact Hercules Fence of Virginia Beach at (757) 321-6700, drop in, or contact us on our website to learn more about residential chain link fencing!
Sources: Red Beacon, Rick's Fencing