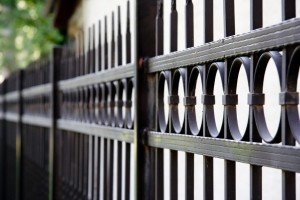 So you want a nice fence in your front yard. Something that will really catch the eye and give you some old world charm. You love the wrought iron look, but you just can't see dropping that much money on a fence. And who could blame you? As much as aesthetic and curb appeal are important to you, not blowing your whole savings account on a fence matters a little bit more. You probably think you need to kick your wrought iron fence dreams to the curb. Well, you'll be happy to know that that's not quite the case. Decorative aluminum fencing can be manufactured to look a lot like wrought iron at a fraction of the price. It has more benefits than just the lower cost, though.
Low maintenance – Aluminum fences are low to no maintenance, depending on the kind you get and where you but the fence from. Once you choose the color of your fence, that's the color you've got. It won't require regular repainting and works fairly well in all different types of weather. It's a great option especially if you're renting out your home.
Same look without the price – If you're looking at an aluminum fence and a wrought iron fence side by side, you probably won't be able to tell the difference in the two. Aluminum is a lighter material, but other than that, they look almost identical. Aluminum will run you a lot cheaper. Aluminum fencing is in high demand right now for that reason.
Easy to repair – It's unlikely that you'll need to repair your aluminum fencing once it's been installed, but if you ever do need to repair it, rest assured that repairs are simple and inexpensive. It's easy to replace single pickets rather than the whole fence because aluminum is so lightweight and doesn't require a new pain job anytime you replace a picket.
Add value without the hassle – When you're ready to sell your home, your aluminum fence will add curb appeal, but people won't be put off by the exorbitant amount of work that comes with a wrought iron fence. They'll know that the fence will keep its aesthetic value without requiring a lot of extra maintenance. An aluminum fence is a great selling point for a home.
Our fences are guaranteed to be a good investment for your home and your life. Contact Hercules Fence of Virginia Beach at (757) 321-6700, drop in, or contact us on our website to learn more about decorative aluminum fencing!
Source: The Fence Depot, eHow