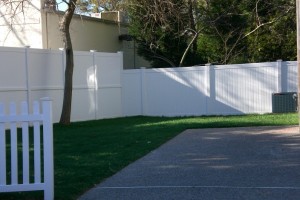 Did you know that Norfolk has 144 total miles of shoreline because of all of the lakes, rivers, and the beautiful Chesapeake Bay? Most of that area is taken up by residential neighborhoods, which is pretty great if you think about it. It means that those who live locally can really enjoy all of the options that come with living so close to so many great opportunities for water sports, relaxing, and helping to keep our water sources clean. One problem that arises with living so close to water, though, is fence maintenance. Some fences have a tendency to rust really easily or accumulate salt that's difficult to get rid of in a such a damp environment. However, there is a fencing option that can survive the harshest of conditions.
What are the Benefits of Vinyl Fencing?
Avoid rot and mold – Vinyl fencing will not rot like wood fencing does, but you can still commission your vinyl fencing to look like wood since you can choose just about any color or texture for your vinyl fencing. This is a huge benefit in a damp climate where water and salt can easily accumulate on your residential fence.
Low maintenance option – Wood fencing requires an absurd amount of maintenance. You have to stain it almost every year and make sure that it hasn't begun to grow rot or mold. Replacing a wooden fence is extremely expensive, and you may find that you have to do it more often than you'd like. Vinyl fencing is practically no maintenance. Just make sure that you clean it with soap and water at least once a year!
Environmentally friendly – If sustainability is important to you, vinyl fencing is the perfect option for your Norfolk home. Vinyl is actually created from chlorine which is composed of salt and natural gas. They're completely non-toxic and will last for years and years. Unless you want a completely different type of fence, you won't have to worry about replacing it!
Vinyl Fencing from Hercules of Norfolk and Virginia Beach
The knowledgeable people of Hercules Fence have developed a reputation since 1955 for professional service and quality installation. With over 50 years in the fence business, we are well aware that our reputation must be earned anew every day. Helping you choose your Norfolk vinyl fence and getting it installed is one way we can earn your trust and become your permanent fencing company! Contact Hercules Fence of Virginia Beach and Norfolk at (757) 321-6700, drop in, or contact us on our website to learn more about residential vinyl fencing!
Source: Front Gate Vinyl, Norfolk.gov