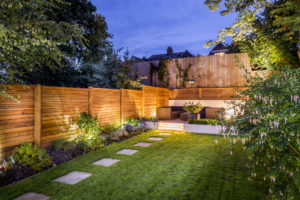 Our homes are meant to reflect our unique personalities, so don't be afraid to show off your quirky side. Customizing your fence is a fun and creative way to do just that. If you want a custom fence installed, you can rely on Hercules Fence of Virginia Beach. Here are some ideas to inspire you in the meantime.
Use The Surrounding Landscape 
To enhance the appearance of your property, feel free to experiment with the landscaping options at your disposal. Placing plants along the designated entrance of your fence can be a visually pleasing addition to your home's exterior. Even in the winter months, flowering plants can still bloom. Consider applying a natural-looking stain or finish to complement the wood's natural beauty for wooden fences. If you have an aluminum fence, incorporating shrubs and trees can create an inviting atmosphere; just be sure to prune them regularly.
Bold Colors
Adding color can be a great way to make your custom fence stand out. During late fall and early winter, the lack of daylight can make things seem dull. Painting your fence black can give it a unique look, but remember that black paint tends to absorb more heat and may cause your fence to fade if it doesn't get enough sunlight.
Matching Exterior Features
As you consider ways to enhance your custom fence, it may be helpful to reflect on which exterior features of your home you take the most pride in. You could explore coordinating the trim around your home and window shutters with the look of your fence, or vice versa, to achieve a cohesive aesthetic.
Add Lighting To Your Fence
Outdoor lighting can make a big difference in the exterior appearance of your property. It not only makes your property more appealing but safer as well. You can take your customization options to the next level by lighting up your fence. 
Hercules Fence of Virginia Beach Has Everything You Need!
Call Hercules Fence of Norfolk and Virginia Beach for your fencing needs. We have decades of experience in the fencing industry. We can offer you the best in ornamental steel, chain link, wooden fences, and more. Our dedicated teams of fencing professionals are highly trained, skilled, and experienced in providing quality fence installations of any type. We'll work with you to find a fence that best suits your needs and budget.
Contact Hercules Fence of Virginia Beach at (757) 321-6700. Contact us on our website to learn more about fall and winter fence construction! In addition, you can keep up to date with offers and information.