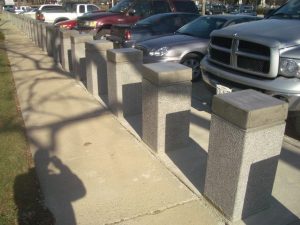 Without security bollards, your commercial or residential property is subject to attacks using everyday vehicles as weapons. Security bollards increase the safety of your property by deterring potential attackers, allowing you to control traffic onto and off your property, and stopping potential attackers from ramming your property. Below are some of the various ways security bollards improve your property's safety.
Safety Bollards Deters Criminals 
The first way security bollards boost property safety is by deterring people who might endanger your property. Security bollards show those who intend to damage your property and staff that you take security and safety seriously. They know that if you have security bollards, you will likely have additional protection.
Safety Bollards Help Control Traffic
The second way security bollards improve property safety is by allowing you to regulate traffic entering and exiting your property completely. Your security personnel can prevent trespassers from entering your property by installing a security gatehouse and retractable bollards. Retractable bollards can also prohibit individuals from leaving your property, such as when a police investigation is required. They can also prevent further persons from entering an emergency, such as a chemical spill or an attack, only allowing hazmat or the police to pass through.
Safety Bollards Prevent Ramming
The third and last way security bollards improve the safety of your property is to prevent ramming. Ram raids are a simple and effective method of infiltrating a property that closed doors or windows may protect. In a ram raid, a big truck is driven through the door or windows of a secure store so that the driver can do a "smash and grab," in which they immediately burst in, steal all they can, and flee as quickly as possible. Criminals frequently use automobile and truck ramming as a tactic. An oversized vehicle traveling at high speeds can do significant damage on its own, but in terrorist strikes, the car is also frequently outfitted with an improvised explosive device. Security bollards also protect access points, enhancing your security even further.
Hercules Fence of Virginia Beach Has Everything You Need!
Call Hercules Fence of Norfolk and Virginia Beach for your fencing needs. We have decades of experience in the fencing industry. We can offer you the best in ornamental steel, chain link, wooden fences, and more. Our dedicated teams of fencing professionals are highly trained, skilled, and experienced in providing quality fence installations of any type. We'll work with you to find a fence that best suits your needs and budget.
Contact Hercules Fence of Virginia Beach at (757) 321-6700. Contact us on our website to learn more about fall and winter fence construction! In addition, you can keep up to date with offers and information.