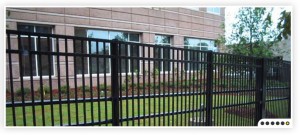 First impressions are everything in a small business. You're competing with the big competition, which is no easy feat. In order to boost your small business' impact on the community and success in general curb appeal must be impeccable. This doesn't just mean landscaping and overall appearance of the building has to look welcoming and well maintained; this also includes commercial fences. With so many fence options out there, how do you know you're picking the right one? This article will take a quick look into the options for commercial fences from iron to vinyl fences so that you, the small businessman can feel confident when making the decision for your commercial fence.
Vinyl Fences: PVC vs. Vinyl Coated
Vinyl fences are widely popular because of their ability to last long while still retaining a sparkling appearance sure to impress any customers, making it perfect for your small business. Vinyl fences remain impeccable for longer despite rough weather conditions. PVC vinyl fences won't splinter or rot like wooden fences can. A vinyl coated chain link fence, like PVC vinyl fence is also gaining popularity because it provides customers with not only excellent curb appeal, but also with security. There are many options with both vinyl coated chain link and PVC vinyl fence, that really comes down to your commercial need for quality and cost.
Custom Wood
For the white picket fence look for your small business, custom wood fencing can often be the perfect choice. There are so many options for your commercial wood fence that it is difficult to even write them all out. A custom wood fence can provide extensive privacy, curb appeal, and security, while lasting your small business years.
Iron/Ornamental Steel Fence
For a bold curb appeal look go for the classic wrought iron fence. These are durable and incredibly long lasting that you will surely see a return on your investment in the form of low fence maintenance and increased customers. With so many options you can be sure that finding the perfect commercial fence for your small business make take time, but will pay off in the long run.
Interested in finding the perfect fence for your small business?
Call Hercules Fence of Virginia Beach. We have decades of experience in the fencing industry, and can offer you the best in vinyl, iron, ornamental steel, chain link, wooden fences and more. Our dedicated teams of fencing professionals are highly trained, skilled, and experienced in providing quality fence installations for your small business. We'll work with you to find a fence that bests suits your needs and budget.
Contact Hercules Fence of Virginia Beach at (757) 321-6700, drop in, or contact us on our website to learn more about vinyl fencing!
You can keep up to date with offers and information from Hercules Fence of Virginia Beach on Facebook, Google+,Pinterest, LinkedIn, and Twitter.