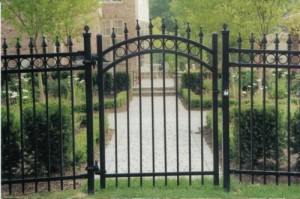 When you say aluminum fencing most people think of chain link fences. However, at Hercules Fence when we talk about our ornamental aluminum fencing we mean something else entirely.  Our ornamental aluminum fencing is aesthetically pleasing, functional, and durable. Any home or business can benefit from ornamental Aluminum Fencing from Hercules fence.
Aesthetically Pleasing
Our ornamental aluminum fences are designed to be aesthetically pleasing and can fit your home or business no matter what the exterior décor. Our ornamental fences come in a variety of styles and colors.  From a classical Victorian style with fleur-del-lis post toppers, and a black powder coat finish, to more modern solid bars with geometric shapes and a bronze powder coat, you can find a Hercules ornamental aluminum fence to fit your style. The spacing of the posts in our aluminum fences also allow you to fully showcase the beauty of your property, in conjuncture with the fence, rather then hiding everything behind a solid wood privacy fence.
Functional
The ornamental aluminum fence is nearly as strong as wrought iron or steel. Our aluminum fences can support the weight of a person, and stop them from easily forcing their way in. An ornamental Aluminum fence could also be used to grow vines, or bushes, like ivy, honeysuckle, or wisteria.
Durable
Our ornamental aluminum fences are covered in the same electrostatically applied powder coating as our iron and steel fences, and yet weathers better then the iron or steel fence. The powder coat finish applied to our metal fences is a durable and long lasting product that will out last and out perform regular paint. And with an extended warranty is covered from 12-15 years. And because the fence itself is made from aluminum it will not rust like iron or steel would.
Get an Ornamental Aluminum Fence from Hercules Fencing
It is the combination of the sturdy, durability, and classic appearance embodied in the ornamental aluminum fences from Hercules Fence that makes an excellent product, a fence that helps keep your family and pets safe, and looks good doing it. At Hercules Fence of Virginia Beach, we specialize in ornamental aluminum fence installation and maintenance in the Seven Cities area. We know how important your property is, so why wait to get started? Our professionals use only the highest quality materials when installing fencing to ensure a functioning fence for years to come. Our professionals will work with homeowners to ensure the highest quality residential aluminum or iron fence.  If you have a question about fence installation and maintenance, or about powder coating finishes, call our professionals today.
Contact Hercules Fence of Virginia Beach at (757) 321-6700, drop in, or contact us on our website to learn more about vinyl fencing!
You can keep up to date with offers and information from Hercules Fence of Virginia Beach on Facebook, Google+,Pinterest, LinkedIn, and Twitter.