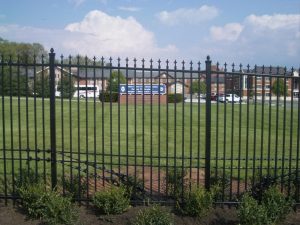 Several factors must be considered when building a new fence around a business property. Use a qualified fencing company like Hercules Fence for your commercial fencing needs. Here are some advantages of installing a commercial fence for your business.
Decrease The Chances Of Future Repairs 
After the installation process is complete, regular maintenance is needed. This upkeep reduces the chances that the fence falls victim to rot or rust. Also, your posts might shift, or the gates buckle. Fence installation and repair professionals depend on high-quality materials and tools to get the job done. Every fence that goes up should be sturdy enough to withstand the elements, time, and human activity. Typical fence construction materials such as wood, vinyl, and chain-link need regular maintenance, even if it is low-key.
Durability Guaranteed 
Hiring a contractor to install your fence has several advantages, but one of the most significant is their quick and straightforward ability to cope with fence codes and regulations. By relying on a fence specialist's experience and expertise, you can ensure that your fence is installed successfully and efficiently.
Enhance Your Curb Appeal
Having a new fence built adequately around your property will give it a polished appearance in terms of appearance. An experienced fencing contractor has the tools needed to deal with any scratches or flaws, so they can assure you that you will be happy with your new fence long after the job has been completed.
Little To No Maintenance 
Fortunately, you won't have to worry about fence upkeep after you employ a professional. Extra care could be needed depending on the sort of fence you have. On the other hand, knowing experts who know what to look for and can confirm that your fence is being maintained may help keep you satisfied with your investment and guarantee that it looks fantastic all year.
Hercules Fence of Virginia Beach Has Everything You Need!
Call Hercules Fence of Norfolk and Virginia Beach for your fencing needs. We have decades of experience in the fencing industry. We can offer you the best in ornamental steel, chain link, wooden fences, and more. Our dedicated teams of fencing professionals are highly trained, skilled, and experienced in providing quality fence installations of any type. We'll work with you to find a fence that best suits your needs and budget.
Contact Hercules Fence of Virginia Beach at (757) 321-6700. Contact us on our website to learn more about fall and winter fence construction! In addition, you can keep up to date with offers and information.