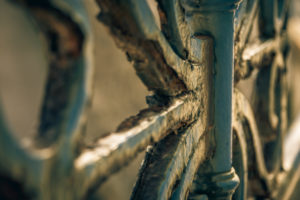 There is something so unique and pleasing about a classic, sturdy wrought-iron fence. Wrought-iron fencing is durable, elegant, and timeless. It immediately calls to mind grand old homes and romantic notions of protected secrets. Of course, the truth is that you don't have to have an old home or a secret superhero identity to have a wrought-iron fence. You just need a classic look and a solid fence to protect your home or property. Wrought iron is an excellent choice for both of these characteristics, but to get the most extended life possible out of the fence, you need to maintain it. Read on for the significant maintenance tasks required to keep your wrought-iron fencing in perfect condition.
Keep It Clean
One of the most important things you can do to maintain your wrought-iron fence is to clean it periodically. Outside in the rain and other weather, fences get dirty and build up dirt, dust, and debris. It's essential to take the time to clean your fence seasonally. Make sure you're not using abrasive cleaners and don't opt for the power washer – these things can cause damage to the fence surface that allows water to get in and cause rusting.
Protect It From Water
If you're thinking that you can't always protect your fence from water, you're right. Wrought iron is solid, but moisture is the biggest enemy of all metal fences. Iron is especially prone to rusting if the water sits on it or if water gets under the protective outer surface. You should keep moisture from sitting on the fence as much as possible. Take time to dry it off after heavy rain storms and ensure that no leaves or branches are sitting on the fence and holding moisture against the surface.
Perform Regular Inspections
In addition to cleaning your fence periodically, you must inspect it annually. If you want to check it more often, that's even better. At the very least, you need an annual inspection to identify issues like rust, scratched paint, or other damage. If you find damage, you need to make sure that you're correcting it as soon as possible. 
Repaint And Repair As Needed
If your inspection does uncover damage to your wrought-iron fencing, it's crucial to repair it as soon as possible. The most common damage you'll notice is chips in the paint or scratches. These may not seem like a big deal, but they are because they allow moisture to get in and cause rusting. You may be able just to repaint the damaged parts, but eventually, you will have to scrape and repaint the fence. This job is better left to professionals for some people since it can be a big task.
Hercules Fence of Virginia Beach Has Everything You Need!
Call Hercules Fence of Norfolk and Virginia Beach for your fencing needs. We have decades of experience in the fencing industry. We can offer you the best in ornamental steel, chain link, wooden fences, and more. Our dedicated teams of fencing professionals are highly trained, skilled, and experienced in providing quality fence installations of any type. We'll work with you to find a fence that best suits your needs and budget.
Contact Hercules Fence of Virginia Beach at (757) 321-6700. Contact us on our website to learn more about fall and winter fence construction! In addition, you can keep up to date with offers and information.