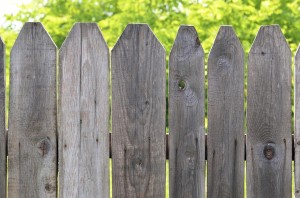 If you live on or near the water then you probably experience a good amount of salt spray. This occurs when the salt water of the water flies through the air and paints itself across your property. Road salt also poses a major issue for your foliage, though the time for it has passed. This can seem like a small problem, and it is at early stages. However, you should start thinking about how to minimize the damage that salt can do to your greenery before it really starts to suffer. Salt can be corrosive to trees and other plants. So, if you want to protect your trees, shrubs, and flowers then you may want to consider installing a fence to protect them.
What does salt do exactly?
When salt hits and then sits on the leaves of your plants, it begins to absorb all of the moisture from the plant. This causes the plant to become exceptionally dry. Another way that salt can affect plants is by soaking into the soil and causing a drought. These two things will cause widespread death among the plants in your yard. So, if you don't think your plants are blossoming like they should, then your plants may be suffering from salt spray.
How can a fence help?
Well, if your plants have a barrier between them and the salts of the sea or road then they may not suffer half as much. This will be particularly true if you invest in a fence with as few holes as possible. So, think privacy-style. Privacy-style fences will keep the salty breeze at bay and keep your plants thriving for spring. Give it a try!
Hercules Fence your Wood Fence Experts in Virginia Beach
Call Hercules Fence of Norfolk and Virginia Beach for your fencing needs. We have decades of experience in the fencing industry, and can offer you the best in ornamental steel, chain link, wooden fences and more. Our dedicated teams of fencing professionals are highly trained, skilled, and experienced in providing quality fence installations of any type. We'll work with you to find a fence that bests suits your needs and budget.
Contact Hercules Fence of Virginia Beach at (757) 321-6700, drop in, or contact us on our website to learn more about spring fence construction!
You can keep up to date with offers and information from Hercules Fence of Virginia Beach on Facebook, Google+,Pinterest, LinkedIn, and Twitter.