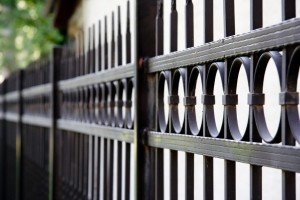 Fencing is an important element of any outdoor design in Virginia Beach. With so many types of fences to choose from and so many materials, your options can sometimes seem overwhelming. However, here at Hercules Fence of Virginia beach, we're all about keeping our customers informed about the different benefits different types of fencing offer because the best customer is an informed one. With that in mind, we're here some of the many benefits to surrounding your home or business with an ornamental fence.
They're Still Utilitarian
Even though the name might suggest an exclusively decorative purpose, ornamental fences are not, in fact, strictly ornamental. Ornamental fences provide excellent barriers, keeping your property safe from the outside world. It clearly establishes your Virginia Beach property's boundaries and is an excellent deterrent against theft, vandalism and trespassers.
Versatility
Ornamental fences aren't just available in a few pre-selected options. A quality ornamental fence builder will offer you the ability to customize your Virginia Beach fence to look how you want it. You'll be able to select from hundreds of styles and door options. Ornamental fences can be built to work with any kind of yard, even sloped properties, and allow you to create a fencing solution that fits your needs.
Durability
While the word "ornamental" often conjures images of demure fragility, ornamental fences are anything but. Made with top-quality steel or aluminum, ornamental fences are constructed to resist even the harshest of environmental conditions, often lasting far longer than the buildings they surround. Their construction also gives them special resistance to rust, making them excellent fences for Virginia Beach homeowners living near water or in high humidity areas.
Completely Recyclable
Because of the large demand for steel and aluminum, and because of their chemical composition, they're incredibly easy to repurpose and recycle. If you're concerned about your Virginia Beach home's environmental friendliness, your personal carbon footprint, or are interested in receiving tax credits associated with environmental stewardship, an ornamental fence is an excellent solution.
Interested in An Ornamental Fence?
Call Hercules Fence of Virginia Beach. We have decades of experience in the fencing industry, and can offer you the best in ornamental fences or any other kind of fencing. Our dedicated teams of fencing professionals are highly trained, skilled, and experienced in providing quality fence installations of any type. We'll work with you to find a fence that bests suits your needs and budget.
Contact Hercules Fence of Virginia Beach at (757) 321-6700, drop in, or contact us on our website to learn more about winter fence construction!
You can keep up to date with offers and information from Hercules Fence of Virginia Beach on Facebook, Google+,Pinterest, LinkedIn, and Twitter.