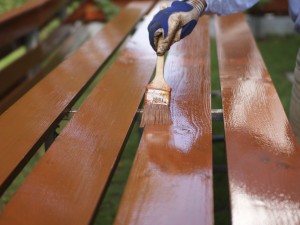 While some may prefer the appearance of naturally aged wood, most Virginia Beach homeowners gravitate towards the bright, polished look of a well-painted or stained fence. Not only does a nice paint job give your fence a better appearance, it also increases its lifespan and offers protection from the elements. That's why Hercules Fence of Virginia Beach is here with a step-by-step guide to paint or stain your wooden fence.
Collect Supplies
When painting a fence it's important to assemble quality supplies. Start with outdoor-formula paint and primer that comes with UV resistance. It's also worth spending the extra dollars on a quality paintbrush that won't shed bristles or cause blisters; it'll make the job much easier in the long run.
Paint Before Assembly
If possible, start the painting process before your fence is fully assembled and erected. It's much easier to paint or stain when the boards are separated, on a flat surface than when they are nailed together around your property. This allows you to easily cover every side of the wood and their ends.
Conduct Fence Prep
If you're painting an existing fence that's already protecting your Virginia Beach property, make sure to clean it up prior to painting. Use a small broom and cloth to clear up cobwebs, seeds, and bird droppings. If you spot loose paint, remove it with a paint scraper or wire brush. Then take a sander to your wooden fence to eliminate small splinters, and be sure to reattach any loosened boards.
Prime
Raw, unprotected wood, especially wood that's left outside, must be primed before painting. This makes sure the wood is protected and also helps paint stick to the surface of the fence better. Applying primer is exactly like painting. Just apply a nice, even coat and let it dry before proceeding to the final step.
Paint Your Wooden Fence
While painting a wooden fence doesn't require as much of a delicate touch as the living room walls, it's still best to work with a process. Paint the fence one section at a time. Begin with the tops of the fence, the open grain, proceed until all of the fence tops are painted and then take paint all the fence board fronts and a single edge. Hold a single piece of cardboard under the bottom end of the fence boards to prevent painting the ground. Paint the same side and edge along each fence board, then paint the remaining sides and edges after.
Congratulations! You've painted your wooden fence!
Interested in a Better Fence?
Call Hercules Fence of Virginia Beach. We have decades of experience in the fencing industry, and can offer you the best in ornamental steel, chain link, wooden fences and more. Our dedicated teams of fencing professionals are highly trained, skilled, and experienced in providing quality fence installations of any type. We'll work with you to find a fence that bests suits your needs and budget.
Contact Hercules Fence of Virginia Beach at (757) 321-6700, drop in, or contact us on our website to learn more about winter fence construction!
You can keep up to date with offers and information from Hercules Fence of Virginia Beach on Facebook, Google+,Pinterest, LinkedIn, and Twitter.