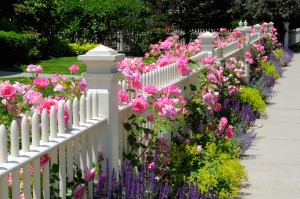 Fencing has many practical uses, but it can also be used to increase the aesthetic of your home, depending on the type of fencing you use. Some fence materials are better for decorative fences than others. It all depends on the kind of design that you like, as well as what you actually need the fence for. Keep in mind that when you're planning on having a new fence installed (even if it is just decorative), you'll likely need a building permit from your city or county. Make sure you're prepared for your project before you get started. That being said, what types of fences make the best decorative fences?
Wooden fences – Everyone wants a dog, two kids, and a white picket fence, right? Well, maybe not so much anymore, but a white picket fence still adds cool decorative flair to your home. It doesn't even necessarily have to be a conventional white picket fence. You could change the design to make it something a little more contemporary and fun. Plus, growing flowers or plants through your wooden picket fence adds another neat element of decoration.
Vinyl fencing – Vinyl can be made to resemble wood or just about anything else for that matter. Vinyl fences are great for decoration because they come in just about any color and can be made to coordinate with your home. Vinyl fences are also very low maintenance. They require little to no upkeep. Essentially, all you'd need to worry about is keeping the fence clean. How easy is that?
Iron fences – Iron fencing in your front yard will give it a sophisticated, old world look. Bright flowers also strongly compliment the look of iron fences; they balance out the harsh lines while enhancing the look of the fence by contrasting to the dark colors. Ivy and other creeper plants create a nice look on your iron fence, as well.
You don't have to sacrifice practicality for design when it comes to your Virginia Beach fencing. All of the fences above can work to keep your children and pets in, while keeping unwanted visitors out. Vinyl fencing and wood fencing are best for blocking your home and yard from view altogether, while iron fences allow your home to be seen through a sophisticated looking medium. Hercules Fence carries and installs all of these types of fences and more.
If you choose Hercules Fence of Virginia Beach today, you'll learn why we're the best in the business. The knowledgeable people of Hercules Fence have developed a reputation since 1955 for professional service and quality installation. With over 50 years in the fence business, we are well aware that our reputation must be earned anew every day.
Contact Hercules Fence of Virginia Beach today at (757)321-6700 or contact us on our website to talk about decorative residential fencing.
Also, check out Hercules Fence of Virginia Beach on Twitter, Google+ and YouTube!
Source: http://www.doityourself.com/stry/three-decorative-garden-fence-ideas#b