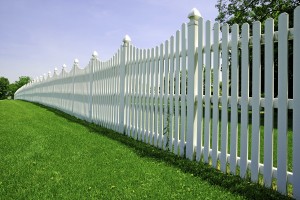 Choosing a new fence can be a difficult task. There are many factors to consider, not the least of which is what fence is the most practical for your land. If you need a fence that's going to give you privacy, you don't want to install a wrought iron fence. The one type of fence that can give you just about anything you're looking for in a fence is vinyl fencing. You're probably wondering "what's so great about vinyl fencing?" We're going to present you with our top 5 reasons that we love vinyl fences, starting with versatility!
Versatile – Vinyl fences can be made to look like just about anything. If you want them to stay with the vinyl, plastic look, you can stick with that; however, if you want wood fencing without all the hassle of wood, vinyl fencing can also be made to look like wood. You can choose the color and style that you want to complement your home.
Low maintenance – Taking care of your vinyl fence is simple. Essentially, all you'll ever have to do is wash it occasionally. You also don't have to worry about rot, mold, or termites like you do with wood. Because of the way that vinyl fences are made, your fence will never need to be painted (though you can paint if you'd like).
Strong – Vinyl fences can stand up to just about any weather. Storms won't phase them, meaning they'll very rarely have to be replaced. When you invest in a vinyl fence for your Virginia Beach home, you know you'll have that vinyl fence for a long time. Over time, it will save you money.
Environmentally friendly – This is a favorite perk for many people since we've recently realized that our planet needs a little extra TLC. Vinyl fences don't contain harsh chemicals that can be dangerous for the Earth as well as for your family members. Instead, you'll have a fence that has very little impact on the world around it, except for to grant you privacy and do its job.
Practical – Overall, these fences present the most practicality. Since they're easy to clean, provide good privacy, and are difficult to get either over or under, you can rest assured that you've made a good investment for your Virginia Beach home. You won't have to worry about people peeking into your backyard or your dog getting out; you're pretty well set!
Fencing choices don't have to be difficult. You just have to know the advantages of the type of fence you're interested in!
If you choose Hercules Fence of Virginia Beach today, you'll learn why we're the best in the business. The knowledgeable people of Hercules Fence have developed a reputation since 1955 for professional service and quality installation. With over 50 years in the fence business, we are well aware that our reputation must be earned anew every day.
Contact Hercules Fence of Virginia Beach today at (757)321-6700 or contact us on our website to talk about decorative residential fencing.
Also, check out Hercules Fence of Virginia Beach on Twitter, Google+ and YouTube!
Source: http://www.vikingfence.com/9-great-benefits-vinyl-fencing