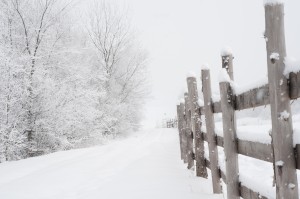 Although we dread it's coming, with the recent damage done by Winter Storm Bozeman, there can be little doubt in Virginia Beach resident's minds that winter is on its way, and it's looking to be a doozy. An oft overlooked aspect winter preparedness is taking care of their wooden fence. Many Virginia Beach homeowners assume that it's the summer months that will do the most damage to a wooden fence, but it's actually the colder seasons that pose the biggest threat. Hercules Fence of Virginia Beach is here with important information on wintery dangers to wooden fences and a few steps you can take to make sure that this winter isn't your fence's last.
Winter Threats to Your Wooden Fence
Heavy snowfall that slides off your roof, or tree branches that snap off after being weighed down by too much snow can come crashing through your wooden fence, tearing down complete sections.
Heavy moisture from long-sitting snow can soak deeply into the fiber of your wooden fence, increasingly the likelihood of mold and rot damage. Oversaturated wood can swell in size, ripping itself from the fence planks and compromising your Virginia Beach fence's structural integrity.
Heavy rain or snowfall can lead to shifting soil and erosion, weakening your wooden fence's foundation or outright causing a collapse.
Protective Measures
Even though it seems like a lot to defend against, taking care of your Virginia Beach wooden fence doesn't have to be complicated. To start with, remove any snow or other debris you find resting on your wooden fence whenever you notice it. This will alleviate the pressure bearing down on your fence and reduce the likelihood of moisture or wood rot setting in. You may also want to trim any unstable tree branches overhanging your fence. Also, when shoveling, try to clear out as much snow from around your wooden fence as possible to help mitigate soil erosion. Finally, if your fence posts seem to be shifting or boards are popping off due to swelling from moisture, call a fencing professional immediately.
Need Winter Wooden Fence Repair?
Call Hercules Fence of Virginia Beach. We're an experienced fencing company with the expertise and tools to make sure your wooden fence stays in top shape regardless of the season. Contact Hercules Fence of Virginia Beach at (757) 321-6700, drop in, or contact us on our website to learn more about wooden fence care in winter!
You can keep up to date with offers and information from Hercules Fence of Virginia Beach on Facebook, Google+,Pinterest, LinkedIn, and Twitter.