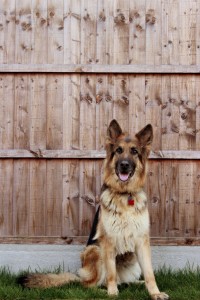 So you've recently gotten a new dog or have moved with your puppy pal to a more populated area in Virginia Beach and you've decided that a fence is in order. It's a smart decision; fences will help keep your dog safely on your property while allowing them some much-needed outdoor freedom. But what kind of fence to choose? Different kinds of canines require different fences and Hercules Fence is here to help you match the right fence to your dog.
Think about Dog Size and Temperament
Before you get to purchasing a Virginia Beach dog fence stop and think about your dog's size and how your dog behaves. While you can glean a lot from general "temperament facts" associated with your dog's breed, it's far more important to have an accurate understanding of your dog's personality. Homeowners with aggressive, larger dogs or guard dogs may need the security and visibility of a high chain link fence while more affably tempered dogs may only need a wood picket to remind them where their boundaries are. It's also worth thinking about your dog's habits. Chewers and diggers will need a tougher fence with posts that extend further into the ground.
Think About Your Dog's Age
Virginia Beach homeowners should make sure to factor in their canine's age before purchasing a dog fence. While a shorter picket fence may be fine for a puppy, when that dog is fully grown they may be able to leap the same fence with ease. In general its best to err on the side of caution. A larger fence can almost always protect a smaller dog (although watch out for fence gaps that a small pup could slip through) and a tougher enclosure will keep you more prepared should you decide to bring another doggy into your fold.
Don't Forget The Outside World
Remember, a dog fence isn't just about protecting Virginia Beach from your dog, it also protects your dog from Virginia Beach. A dog fence can protect your dog from malcontented individuals seeking to cause harm, and keep loose or poorly controlled animals that could hurt your pup at a safe distance.
Need a Dog Fence in Virginia Beach?
Call Hercules Fence of Virginia Beach. We're an experienced fencing company with a reputation for providing an incredible variety of quality, and affordable dog fences for canines both large and small. We know how to give man's best friend freedom to run, while still giving you peace of mind.
Contact Hercules Fence of Virginia Beach at (757) 321-6700, drop in, or contact us on our website to learn more about buying a dog fence!
You can keep up to date with offers and information from Hercules Fence of Virginia Beach on Facebook, Google+,Pinterest, LinkedIn, and Twitter.