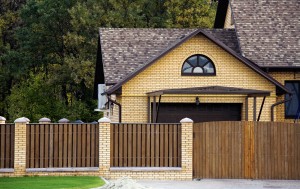 Picking the right fence for your home depends largely on where you reside. If you live in the countryside with a farm, wood fencing is a viable option. In a quaint upscale beach town, a white picket fence or wrought iron fence would be popular in the area. Various types of fencing can increase the property value around your home.
Find out what is in style in your neighborhood.
No one wants to stick out like a sore thumb in a neighborhood. Many people are trying to one-up the other with home additions and masonry work.  Choosing the right fence for your property is key in regards to the price of your home. If you do not have a fence around the yard but your neighbors do, chances are a prospective buyer will make a mental note that putting up a fence will need to happen. Putting in a fence will take the stress off of the potential home buyer of an extra expense. Homes that are move-in ready are more appealing. Make sure you decide on a fence that is similar to others in the neighborhood.
Match the fence to your home.
What may be commonplace in the neighborhood might conflict with the materials in your home. If your fence does not mesh well with your house, the resale value will not move much. A brand new home does not look normal with a wooden fence and a cute pink beach cottage does not match with an ornamental, over-the-top fence. Choose the right fence for your house to increase its property value.
Fence your yard for security.
Don't just put up a fence for curb appeal. Make sure it serves an actual purpose in addition to matching the neighborhood. For example, if a new family moves in with a puppy, the fence will keep the cuddly animal from running away. Fences also ward off intruders because it gives them extra work to do when trying to burglarize a home.
Find The Best Fencing Contractor.
Ask us at Hercules Fence what fence will increase property value. A top-notch fencing contractor can provide you with this information and more. Hercules Fence of Virginia Beach offers the best in fence construction for all our Virginia Beach customers. We'll even take care of all of the permit acquisition for you.
Contact Hercules Fence of Virginia Beach at (757) 321-6700, drop in, or contact us on our website to learn more about winter fence construction!