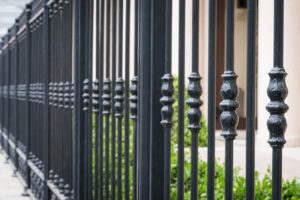 The choice to install or replace a fence is a significant decision that requires careful consideration. The selection of materials, style, and height can significantly impact the aesthetic appeal and value of your property. Furthermore, you may need to consider the guidelines set by your homeowners' association. If you have decided to go for a metal fence, several options are available regarding materials and styles that you can explore.
Wrought Iron Fencing 
Wrought iron fences are known for their ornate design and sturdiness among the various types of metal fences. They add a touch of elegance to your property and provide a clear view of your surroundings. However, since the metal is prone to rust, each piece is powder-coated to protect it from the elements. Nevertheless, regular maintenance is required to prevent rusting.
Aluminum Fencing 
If you're looking for the appearance of wrought iron without the maintenance or high cost, there's a great alternative available. Black aluminum is an excellent substitute that offers the same look as wrought iron without needing upkeep. This style is perfect for coastal areas, as it's highly resistant to rust and corrosion. Additionally, black aluminum is an excellent choice for decorative purposes as it's maintenance-free and can be used on sloping lands. 
Steel Fencing 
If security is a priority, then the most durable option available is the one that should be considered. This option is commonly found in industrial settings and is nearly indestructible. It can accommodate sloping lands but is quite heavy and does not provide privacy from onlookers. It is available as tubular and should have a powder coat finish for added durability.
Chain-Link Fencing 
One of the most affordable and durable options is chain-link fencing. This type of fencing can last for years and is resistant to rust and corrosion. It can also be vinyl coated and can accommodate uneven terrain. To ensure that your metal fence lasts as long as possible, knowing your property's boundaries and maintaining the landscape around it is essential.
Hercules Fence of Virginia Beach
Call Hercules Fence of Norfolk and Virginia Beach for your fencing needs. We have decades of experience in the fencing industry and can offer you the best in ornamental steel, chain link, wooden fences, and more. Our dedicated teams of fencing professionals are highly trained, skilled, and experienced in providing quality fence installations of any type. We'll work with you to find a fence that best suits your needs and budget.
Contact Hercules Fence of Virginia Beach at (757) 321-6700, drop-in, or contact us on our website to learn more about fall and winter fence construction! You can keep up to date with offers and information from Hercules Fence of Virginia Beach on Facebook, Pinterest, LinkedIn, and Twitter.