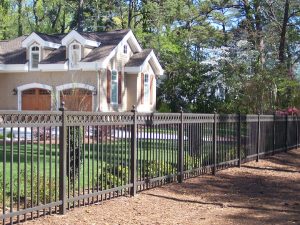 If you were to imagine a wrought iron fence, what sort of house would you associate it with? Chances are, your mind would conjure up images of a traditional and upscale home. This is because wrought iron has long been associated with tradition, luxury, and elegance. However, this impression is only sometimes accurate. There are several compelling reasons why you should consider installing an iron fence for your next fencing project.
Longevity And Durability
Iron fences are one of the most durable options available in the market. With proper maintenance, iron fences can last for decades, sometimes outlasting the person who installed them. This is why they are often associated with old and exquisite homes. These fences also resist various damages that other materials, such as wood, are susceptible to, including insects and rot. 
Maintenance Is Simple
Many people avoid considering an iron fence because it requires much more maintenance than wood or vinyl fences. However, this is only partially true. Most of the care an iron fence needs concerns removing any rust and preventing it from forming again. To remove rust, you will need a brush, and once it has been removed, you will need to prime and paint the fence. Installing an iron fence is not a DIY task, but maintaining it is pretty straightforward.
Iron Fencing Is Secure
Iron fencing is an excellent choice if you're looking for a safe and secure option. With its solid metal structure, iron fencing provides better security than other options like vinyl. That said, it doesn't mean that vinyl is a poor choice. It's just that when security is a concern, metal is a better option.
Iron Is Versatile 
Iron is a versatile material that complements various home styles, including colonial, Georgian, and Victorian. It can enhance your home's aesthetic appeal and value.
Hercules Fence of Virginia Beach Has Everything You Need!
Call Hercules Fence of Norfolk and Virginia Beach for your fencing needs. We have decades of experience in the fencing industry. We can offer you the best in ornamental steel, chain link, wooden fences, and more. Our dedicated teams of fencing professionals are highly trained, skilled, and experienced in providing quality fence installations of any type. We'll work with you to find a fence that best suits your needs and budget.
Contact Hercules Fence of Virginia Beach at (757) 321-6700. Contact us on our website to learn more about fall and winter fence construction! In addition, you can keep up to date with offers and information.