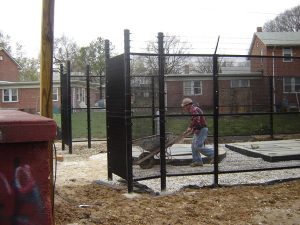 If you're looking for additional security, barbed or razor wire fencing can be a valuable asset to your business. Barbed wire fencing consists of sharp edges from ties of heavy wires with exposed sharp points, while razor wire fencing involves sharp edges from sharpened strips of steel tape. While barbed and razor wire fencing is often associated with prisons, they can also be used to enhance security for other commercial businesses. Here are some business that might use razor wire fencing.
Construction Sites
Having a chain-link fence with top and bottom barb rails at a construction yard is a logical choice. This design effectively deters climbing and tunneling. Construction yards require protection due to the presence of valuable items such as high-quality building materials, expensive construction equipment, and heavy-duty vehicles on site.
Auto Repair Shops
Cars are expensive and high-quality, which means that auto repair shops need the ultimate defense as well. Not to mention that you don't want people's belonging to be susceptible to theft. Plus, diagnostics equipment is worth a lot of money. Auto repair shops don't need a fence as large as a construction yard would need, but chain-link fencing with tubular metal is a common thread at many repair shops. Chain-link fencing featuring barbed wire at the top versus razor wire provides a less intimidating appearance for customers.
Commercial Farm Sites
Using a barbed-wire fence can help separate your commercial farm from other properties. It's essential to avoid any potential liability if one of your livestock escapes onto neighboring land. However, if you're concerned about the safety of children, we can assist you in finding a more suitable commercial fencing option that meets your specific requirements.
Pharmacies And Veterinarian Offices
When you run a pharmacy or veterinarian office, you need to safeguard your valuable inventory against break-ins. However, you also need to consider how your customers perceive your security measures. You don't want them to feel threatened or unwelcome, but you can't compromise on effective protection for your business. One solution is to install razor wire fencing, which may seem intimidating, but there are discreet options available that won't be as noticeable to visitors.
Hercules Fence of Virginia Beach Has Everything You Need!
Call Hercules Fence of Norfolk and Virginia Beach for your fencing needs. We have decades of experience in the fencing industry. We can offer you the best in ornamental steel, chain link, wooden fences, and more. Our dedicated teams of fencing professionals are highly trained, skilled, and experienced in providing quality fence installations of any type. We'll work with you to find a fence that best suits your needs and budget.
Contact Hercules Fence of Virginia Beach at (757) 321-6700. Contact us on our website to learn more about fall and winter fence construction! In addition, you can keep up to date with offers and information.