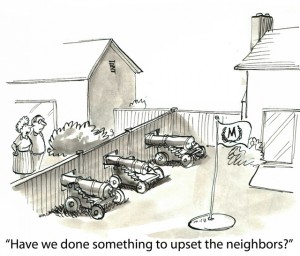 No one wants to get into a dispute with a nasty neighbor. That's part of why we put up fences in our yards to begin with! Still, there are a few practices you should keep in mind so that you can avoid an unnecessary confrontation this summer. Here are some tips on how you can follow proper fence etiquette and avoid the next showdown with your neighbor.
Be on the Safe Side
Going even an inch over your property line can risk a costly tear down of your fence. Know your property's boundaries by studying your house line drawing or by ordering a land survey. Fence companies typically install about a foot within the line just to be on the safe side of the matter.
Know Your Limits
It's important to understand zoning regulations before you put up a new fence. There are often restrictions on height, setbacks, corner lots, blind curves and more that you will want to be aware of. Talk to you fencing company so that you can review restrictions early on in the fence building process.
Comply with the Homeowner's Association
Your fencing company isn't responsible for a conflict with your fence and your Homeowner's Association. HOA's can dictate a lot of things about the style and design of your fence, so avoid committee disputes by knowing regulations ahead of time. Sometimes you simply won't have much of a choice.
Communicate
Most of the time people don't like surprises. Have a conversation with your neighbor before putting up a new fence. You don't have to give your neighbor all the details, but good communication can avoid disputes early on.
Be courteous. It's common practice for homeowners to put the best finished side of their fence facing toward the street and neighbors. Maintain both sides of your fence as it ages. If you believe your neighbor is causing damage to your fence, take photos and try to work it out with them first. Otherwise you can take your dispute to a small claims court.
Get In Touch With Hercules Fence Today
With over 50 years in the fence business, we are well aware that our reputation must be earned anew every day! Since 1955, our professional team has designed and installed fences to meet the needs of a wide array of clients: residential, commercial, and government. We pride ourselves in installing high quality fences at affordable prices. Click Here to request a FREE quote today!
If you have any questions about Hercules Fence and our community service endeavors, please contact Hercules Fence of Manassas, Virginia by calling (703) 551-2609 or visiting our website. Also, like us on Facebook, follow us on Twitter, put us in your Google+ circle, and watch us YouTube!