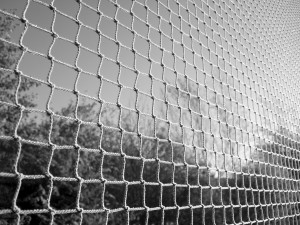 Your Norfolk business is a construction company, and your moving between sites all over seven cities area. You need fences to protect your sites from trespassers, thieves, and liability issues. Hercules Fences' chain link fences are the perfect solution for your business' fencing needs. Our chain link fences are easily moved, provide security, are long lasting and durable, and finally (and important to your business' bottom line) they're inexpensive to buy and set-up.
Easy Mobility
In a business like construction, where your company is mobile the ability to pack up and move to the next site quickly is important. Taking time packing up and moving from site to site is valuable company time and wasted productivity. Chain link fencing is the best fencing solution for a mobile company. Of all your fencing options, chain link is the quickest to take down, pack up and move, and finally to set up again at a new site. The ability to quickly move your chain link fencing will help save your company time and money.
Security
Your construction site needs security. Mostly you need it for liability issues, like to prevent someone from using your construction site as shortcut and accidentally hurting themselves, but you do also need it to prevent theft. Chain link fences are excellent for preventing unintentional or accidental trespassing, as in the case of someone walking through an area that they don't know is off limits.  Chain Link fence is also good at discouraging the casual trespasser who would only do so opportunistically, like the person taking a short cut. Chain link fencing is admittedly weak for protecting against people who are willing to go out of their way to climb it, like thieves, but it can be augmented. Barbed wire, or razor ribbon are easily added to barbed wire and both serve as effective deterrents against theft.
Long Lasting and Durable
Hercules Fences' galvanized chain link fence is durable and long lasting. No matter what environmental hazards or the rough treatment our chain link fences receive, they will stand up to punishment. We guarantee our fence will last for year and stand up against whatever punishment nature, or the strains of work, will give it.
Inexpensive to Buy and Set-Up
Finally, our chain link fencing is affordable and easy to set up. It costs less then brick, wood, pvc, or other kinds of fencing or walling. And it doesn't take nearly as long to set up as those other materials. Hercules Fences' chain link fences will save your company money, money that you can spend on other important business expenditures.
Want Chain Link Fencing from Hercules Fences
Call Hercules Fence of Virginia Beach. We're an experienced fencing company with a reputation for providing an incredible variety of quality, and affordable fences for private residences and commercial properties. A temporary fence is great if you need a fence that's affordable and can still be installed quickly.
Contact Hercules Fence of Virginia Beach at (757) 321-6700, drop in, or contact us on our website to learn more about buying or renting a temporary fence!
You can keep up to date with offers and information from Hercules Fence of Virginia Beach on Facebook, Google+,Pinterest, LinkedIn, and Twitter.